Welcome to the home of ASL in the UK
ASL (Advanced Squad Leader) is a detailed wargame of tactical level World War II combat published by MMP. If you have never played it, this PDF contains enough material to introduce you to the basics of infantry combat.
View From The Trenches is Britain's Premier ASL Journal, having first appeared as a four page bi-monthly newsletter in March 1995. Within three years it had expanded to its current 20 page format. Unfortunately a lack of material saw the frequency drop from bi-monthly to quad-monthly in 2006 :-( Along the way there have also been a number of special editions and scenario packs.
This web site contains PDF versions of all issues published to date - they're free but that doesn't mean I won't accept any money if you want to send me some :-) . Click here to go to the index.
This site also includes information on the three UK ASL tournaments held each year, links to a number of related ASL sites and resources of some use to ASLers, as well as some material never published in VFTT.
Roll low and prosper.
---
NEW! VFTT19 released 6 Nov 2023

VFTT119
Welcome to Korea - Craig Benn offers an overview of Forgotten War
Control Freaks - Jim Bishop looks at the Control rules
Gun Setup Considerations - tips for Gun setup
Crusaders Ladder - updated

---
ASLAP 2020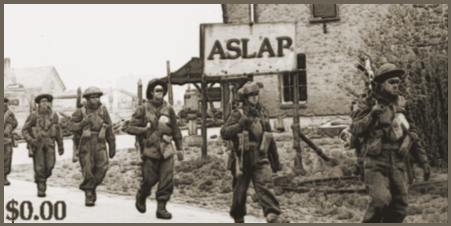 ASLAP
was a program developed by Kevin Pietersen to assist with
ASL
play. Sadly it doesn't work on modern computers and Kevin has disappeared from the
ASL
scene, so it's unlikely it will ever be updated to be compatible. Which is where
ASLAP 2020
comes in. This is a recreation I have made in VB2019 that provides the basic functionality of
ASLAP
.
---
Solitaire ASL-Bot
The
Solitaire ASL-Bot
is a "card driven solitaire system [that] can take the place of a regular opponent and will play either side of every scenario in Starter Kit #1 (eventually, but not quite yet)."
If you are interested in giving it a try and helping the author develop the system, you can download the cards and rules from
Boardgamegeek.com
---
PunchedCon

PunchedCon is the UK war and strategy board gaming convention started by Second Chance Games in 2022.
---