THE REMEMBRANCE WALL
"the next time you do get to play someone, especially a good friend, pause and relish the passing moment because you never know" Trev Edwards, May 2007
This is a page for people to pay their respects to ASL players who are no longer with us :-(
Simply click on a name to find out more about the person and the tributes to them.
If you want me to add a tribute, or set up a new page for someone please contact me.
---
Paul Weir (2020)
John Hill (2015)
Fred Ingram (1949 - 2014)
Christian Koppmeyer (1962 - 2014)
Bill 'Fish' Conner (1952 - 2012)
Ian Daglish (1952 - 2011)
Glen Gray (1957 - 2010)
Jim McLeod (2009)
Iain Mckay (1962 - 2006)
John Van Marter (1961 - 2007)
Gord Reid (1953 - 2007)
Cloyde Angell (2005)
Kent Smoak
---
IN MEMORY OF IAN DAGLISH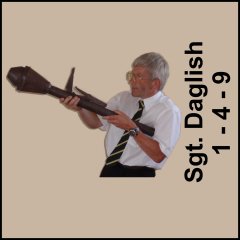 Read tributes
ABOUT IAN: Ian Daglish was a well-known member of the UK ASL community, known for his scenario designs. He was also a historian, and had written half a dozen books on the Normandy battlefield. He is survived by his wife Joy and their daughters Hazel and Fiona, and his brother Andy.
BORN: 2 July 1952.
DIED: 31 July 2011 of injuries sustaining when the plane he was piloting crashed two days earlier.
---
TRIBUTES
Andy McMaster
Just heard the very sad news that Ian Daglish has died. I was stunned when I heard. A great loss
Oliver Gray
Such a bad bit of news, he will be sorely missed by all who knew him
Neil Stevens
I cannot believe it. A great friend, history enthusiast and ASL player. He will be sorely missed and I feel desperately so sorry for his wife Joy and their two daughters. A real tragedy.
Joshua Walles
A sad loss for the community. Our prayers and thoughts should be with his family at this time of grief.
Martin Barker
Terrible and unbelievable news.
Nadir Elfarra
Very sad to hear this. Condolences to his family and friends. Rest in peace. Ian.
Jeffery Hallett
A terrible shock, indeed, made more so because Dave and I interviewed Ian on Thursday night. This was our first personal interaction with him and we remarked at the end of the recording how interesting and personable he was. A real gentleman. We were already making plans for several followup interviews. Today we are both shocked to the core.
Ian Percy
Very sad indeed. Huge condolences to Ian's family, I can't begin to imagine how they must feel. A great scenario designer and author, a thoroughly good man to play against and all round nice bloke, he'll be missed.
Hennie van der Salm
Shocked to hear about this news. Condolences to his family.
Pete Phillipps
Sad news indeed :-( I've shared plenty of chats with Ian over the years at tournaments, he was always a joy to speak to and fun to play against - I always remember having a fine game of Head of the Mace from AP4 against him at INTENSIVE FIRE a couple of years ago. He'll be sadly missed.
Ian Willey
Truly a sad day. Played Ian for the first time at Heroes this year, we are all poorer for his passing.
Paul Saunders
So very, very sad. A true gent.
David Schofield
This is a great shock. I was in Ian's house only a few weeks ago discussing University options for his 18 year old daugter. He has a younger daughter as well. He often stayed with me when giving his lectures at Bovington or when we had a dinner there. He was a great historian [he'd just got back from giving historical tours of Normandy] and a true asler. I often helped with his asl designs and he always wanted to capture the essence of the battle. They definitley have an historical feel to them. Ian was always a mainstay of the British tourney scene and we'll all miss him. I can't believe it.
Aaron Cleavin
Huge condolences to all Ian was a absolutely first rate gentleman, I only had the chance to play him once at Bournemouth in 2000 and I learnt a LOT, not just about ASL but about life as well. He will be sorely missed.
Gary Fortenberry
We've lost a gentleman and a scholar in the finest sense of the words. Ian was many things to many folk and will be missed greatly. Heartfelt condolences go out to his family and friends.
Michael Davies
shocking news. Very creative and cultured gentleman an awful lot of people will miss him.
Vic Provost
My deepest sympathies to Ian's family, our ranks have suffered a big hit.
Neil Brunger
He was indeed a fine chap. Always friendly. I never got the opportunity to play him something I will regret. It will be sad at Intensive fire and Hero's. It just shows us that the god's play dice too, and we should live and make the most of everyday. It has not fully sunk in yet. Condolences to the family and his extended group of friends. I am sure they are many.
Ulric Schwela
A great chap, a passionate historian with a treasure trove of history anecdotes, an ASL player who I first met in a scout hut in Romiley, friendly and fun, warm and welcoming. To me he will always be an inspiring character and I will miss him. My deepest sympathies to the family.
Perry Cocke
Ian was very generous with his knowledge and talents, so I am convinced that he was loved and respected by many, not just by those of us in the military history and simulation community. A terrible loss. Our hearts go out to his women.
Darrell Andersen
Tough news. Ian was an author, friend, fellow hobbyist and wonderful guy. He'll be missed by all who knew him.
Martin Vicca
Ian, I will miss your presence at heroes and the many chats. My heart goes out to your family.
Paul Case
A true gentleman, he will be sorely missed
(to top)